Gutter Installation
FREE Quotes & Inspections
Warranties Available
(630) 277-7244
Gutter Installation & Gutter Repair in Naperville, Plainfield, Joliet, Oswego, Bolingbrook, Aurora, and Montgomery, Illinois.
Seamless Gutters Offer Better Performance & Lower Maintenance
Our licensed and experienced roofers are ready to help you with all of your gutter system needs. Call us at (630) 277-7244 to get started! The gutters and downspouts around your home have the critical job of protecting your house from water damage. They do this by redirecting rain away from your home's foundation, walkways, and entryways. If your gutters fail to redirect water away from your home, it may be time to install a new gutter. Buffalo Roofing & Exteriors offers seamless gutter installation to help you protect your home and keep the water out.
The Seamless Gutter Installation Process
Our gutter installation process involves three basic steps.
Planning
The planning and preparation process is the first and most important step of the seamless gutter installation process. The planning phase includes the following tasks:
Roof measurements
Choosing the color and style of your gutters and downspouts
Picking the best materials for the job
Pre-forming Gutter Systems and Downspouts
Once we have the necessary measurements, materials, and style preferences, we can start the pre-forming phase. During this phase, we use a long sheet of metal or another material of choice to stick through the gutter machine. The machine then shapes the material to create gutters and downspouts that fit your home or building.
Attachment
Once we have the proper gutter systems and downspouts, we use a series of hangers to secure them to your home. Seamless gutter installation involves placing the hangers so they aren't visible after attaching the gutter systems.
Gutter Repair
Sometimes all you need is a simple gutter repair rather than a whole new system. It could be time for a gutter repair if you notice any of the following signs:
Sagging gutters
Standing water
Connection point rust
Repairing your gutter immediately is critical to prevent further damage and protect your home from falling water. If you notice any issues with your gutter system, give Buffalo Roofing & Exteriors a call. Our experts will comprehensively inspect your gutters to locate the problem and provide a fast and effective solution.
Professional Gutter Installation
Whether you are buying a new home or need to replace a damaged gutter system, Buffalo Roofing & Exteriors can help. We have an A+ rating with the Better Business Bureau and offer a 10-year workmanship warranty. Call us today at (630) 277-7244  to schedule an inspection in Naperville, IL.
View Our Recent Projects
Enjoy our digital portfolio of recent jobs completed by our team at Buffalo Roofing & Exteriors.
You can filter by City/Town, Project Type, View Photos and more!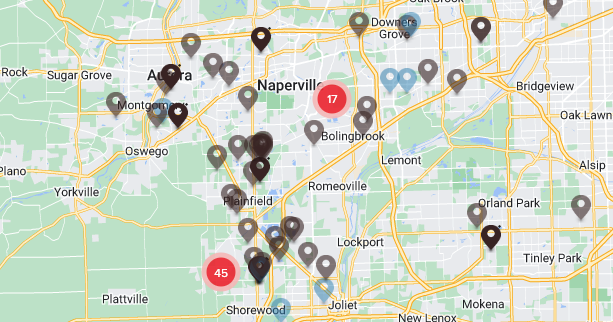 Proudly Serving
Naperville, Oswego, Plainfield, Joliet, Bolingbrook, Aurora, Montgomery, North Aurora, West Chicago, Batavia, Warrenville, Sugar Grove, Romeoville, Wheaton, Glen Ellyn, Lombard, Woodridge, Dairen, Downers Grove, LaGrange, Hinsdale, Oakbrook Terrace, Lemont, and surrounding areas.
What Our Clients Have To Say
"What can I say they did a great job on my roof, . Would Definitely recommend, I myself will be having them do future work on my gutters windows, and siding for my garage"
"
Buffalo Roofing & Exteriors are real professionals that take satisfaction and pride in helping and delivering their customers with results! Thank you Buffalo Roofing & Exteriors
"
Raj S. Review on BBB
"Jerry and Justin did an amazing job at making clients' experience a number one priority. I would recommend them to everyone."
Need Storm Damage Remediation?
Our crews are available for immediate inspections of your roofing, siding, and gutter systems! If we find storm damage, our team offers insurance claim assistance.