LP Smartside Siding Service
FREE Quotes & Inspections
Warranties Available
(630) 277-7244
Schedule a FREE Quote & Inspection
New & Replacement LP Smartside Siding Installation in Oswego, Naperville, Aurora, Plainfield, Bolingbrook, and Montgomery, Illinois.
Are you looking for a high-quality LP Smartside siding service in the Oswego and Naperville, Illinois area? Look no further than Buffalo Roofing & Exteriors! We are a family-owned and operated business with over 20 years of experience in the roofing and exteriors industry.
We offer a wide range of services, including LP Smartside siding installation, repair, and replacement.
Our team of highly trained and experienced contractors will work with you to choose the perfect LP Smartside siding for your home or business. We understand that LP Smartside products not only offer our clients premier curb appeal, but they are also engineered to offer superior protection against hail, wind, moisture, fungal decay and more! Our team will be happy to work with you on selecting the perfect color and style to fit your home and budget!
If you are looking for a reliable and affordable LP Smartside siding service in the Oswego, Aurora, and Naperville Illinois areas, contact Buffalo Roofing & Exteriors today!
The exterior of your home should be more than pleasing to look at. Your windows, doors, and siding all help insulate your home and protect it against the outdoor elements. At Buffalo Roofing & Exteriors, we know what it takes to create an efficient home exterior with an unmatched curb appeal.  Get a brag-worthy curb appeal with an upgraded home exterior. Call (630) 277-7244  today!
View Our Recent Projects
Enjoy our digital portfolio of recent jobs completed by our team at Buffalo Roofing & Exteriors.
You can filter by City/Town, Project Type, View Photos and more!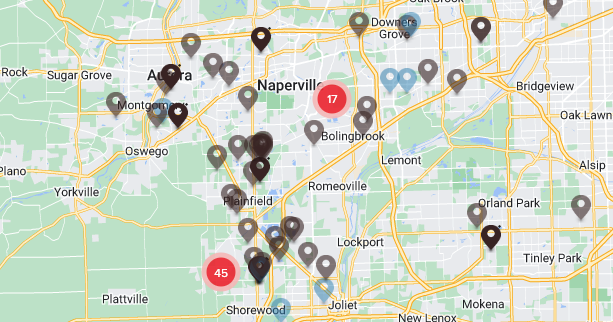 Proudly Serving
Naperville, Oswego, Plainfield, Joliet, Bolingbrook, Aurora, Montgomery, North Aurora, West Chicago, Batavia, Warrenville, Sugar Grove, Romeoville, Wheaton, Glen Ellyn, Lombard, Woodridge, Dairen, Downers Grove, LaGrange, Hinsdale, Oakbrook Terrace, Lemont, and surrounding areas.
What Our Clients Have To Say
"Buffalo Roofing was excellent!!! They worked with my insurance company to get my roof and siding repaired/replaced after a storm. With in depth knowledge of the local codes, they were able to walk me through the claim and repair processes with ease. In addition, they stand behind the work that they do. We recently had a major storm sweep through the area (after the siding was replaced). The Buffalo team came out and inspected my home, noticed some wind damage, notified me as I had not seen it, then came out and repaired the siding at no charge. If I should have any exterior repair/ upgrade needs, Buffalo will be my first call!"
"My wife and I have worked extensively with Buffalo Roofing as they have replaced and repaired the roof, siding, facia, gutters, downspouts, and window screens at our home. If there was anything else left to fix, they would be my first call! Justin and his team are awesome. They go above and beyond to get things done for you in a timely and professional matter and make sure that the job is done the right way. They refused to call each job done until they knew we weren't just satisfied – but happy – with the results. Justin also makes it easy to understand the insurance process when that is involved and has a thorough knowledge of local code issues to assist in working through claims. I couldn't recommend them more."
Need Storm Damage Remediation?
Our crews are available for immediate inspections of your roofing, siding, and gutter systems! If we find storm damage, our team offers insurance claim assistance.