Roof Replacement Service in Aurora, Illinois
FREE Quotes & Inspections
Warranties Available
(630) 277-7244
AWhy Choose Buffalo Roofing & Exteriors as Your Roofing Contractor in Aurora, IL?
Buffalo Roofing & Exteriors only works with certified roofing contractors with experience working on all types of residential and commercial roofs. Additionally, we can help repair damage to aluminum siding and other exterior home repairs such as:
Residential and commercial roofing repair
Siding services
Window repair and replacement
Gutter install and repair
If you are filing an insurance claim for a new roof or roofing repair, our insurance claim specialists will help you with all insurance documents.
Trust the Professionals at Buffalo Roofing & Exteriors
Buffalo Roofing & Exteriors provides professional roofing installation in Aurora, IL. We offer roofing repairs on all types of roofs, including flat roofs, gables, and other styles. For a free estimate on all your residential and commercial roofing services, siding, and other exterior services in Aurora, Illinois, call (630) 277-7244 today for a free estimate.
Roof Replacement in Aurora, Illinois. 
Rain, wind, hail, or flying debris can cause significant damage to your home's exterior. When this happens, you want a reliable roofer to repair or replace your roof. Buffalo Roofing & Exteriors offers experienced roofing contractors specializing in home roofing repairs and roof replacements. 
Our licensed residential contractors can quickly assess the damage to your residential roofing and provide our recommendations for repair or replacement, whichever is more cost-effective. We are proud to stand behind our work and offer a 10-year Workmanship Warranty on all new roofing services. 
✔️ Asphalt Shingle Roofing
When To Replace Your Roof
The average lifespan of a roof is 25-30 years with proper care. Illinois can experience severe weather all year round that can damage your home and siding. If you think your roof needs repairing or replacing, look for these signs:
Water damage in the attic or on ceilings
Shingles are missing
Moss or mold is growing between shingles or in gutters
Sections of your roof are sagging
Buffalo Roofing & Exteriors specializes in residential and commercial roofing. We can come out and inspect your home if you experience storm damage or your roof is older than 30 years. Not only will replacing your roof reduce your heating and cooling bills, but it will also significantly improve the value of your home.
If you suspect your roof may need repairing or replacing, Buffalo Roofing & Exterior is your one-stop-shop roofing company. On top of our exceptional roof repairs, we offer siding services, window installation, gutter installation, and more. We can help you no matter your project type. Our insurance claim specialists will help you with all insurance paperwork if you have an insurance claim. For residential or commercial roofing services in Aurora, IL, and the surrounding area, call Buffalo Roofing & Exteriors at (630) 277-7244 for a free estimate today.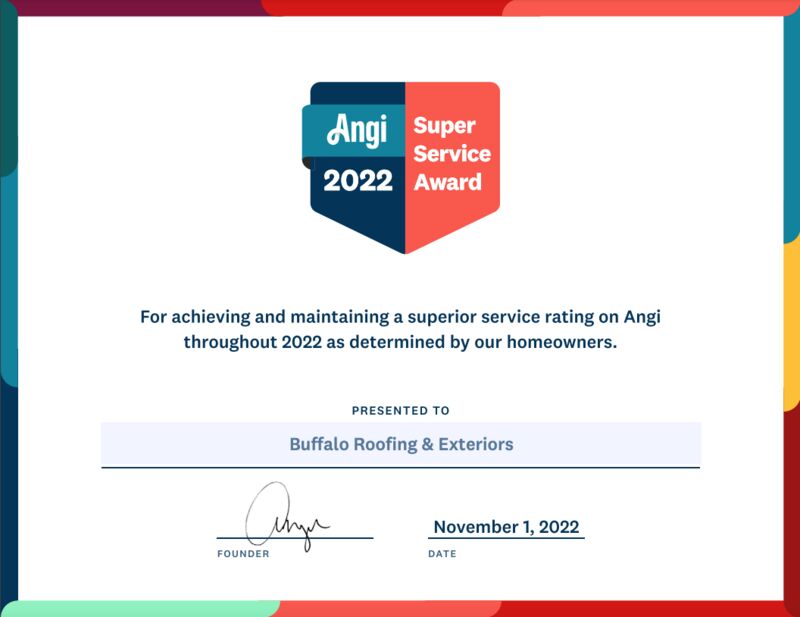 Commercial Roofing Contractors in Aurora, Illinois
Every roofing contractor at Buffalo Roofing & Exteriors has the licensing and experience needed to repair or replace various types of commercial roofing systems.
Steel Roofs
Steel roofs combine durability and aesthetics to create an unmatched commercial roofing solution.
Metal Roofs
Metal roofs have an impressively long lifespan and are more fire-resistant than other roofing materials.
TPO Roofs
TPO roofing systems are ideal for businesses looking to save money on their HVAC system cost. TPO is a durable yet inexpensive material that offers quick and easy installation.
EPDM Roofs
EPDM roofing is similar to rubber and is ideal for businesses looking for a cheap commercial roofing solution.
Thermoplastic Roofs
Thermoplastic roofing systems require minimal maintenance, are tolerant to high temperatures, and can last up to 20 years.
View Our Recent Projects
Enjoy our digital portfolio of recent jobs completed by our team at Buffalo Roofing & Exteriors.
You can filter by City/Town, Project Type, View Photos and more!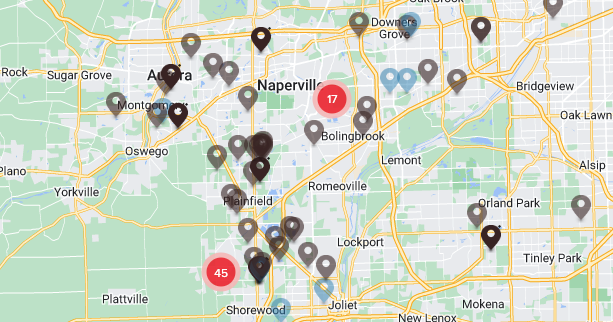 Proudly Serving
Naperville, Oswego, Plainfield, Joliet, Bolingbrook, Aurora, Montgomery, North Aurora, West Chicago, Batavia, Warrenville, Sugar Grove, Romeoville, Wheaton, Glen Ellyn, Lombard, Woodridge, Dairen, Downers Grove, LaGrange, Hinsdale, Oakbrook Terrace, Lemont, and surrounding areas.
What Our Clients Have To Say
"Justin was fantastic! He kept me informed throughout the entire process. I knew exactly what to expect and when. Even now that my roof is complete, he still checked on me to make sure I was satisfied. Their company is very professional They use only the best materials and they truly know all about it so they can answer any question. "
"Profession, personal, polite, and punctual are the words to describe our experience with Buffalo Roofing & Exteriors. Upon initial inspection of the roof, we were told it had sustained storm damage, we were unaware of. We contacted our insurance company and they concurred. As a result, we obtained an entire new roof for the cost of our homeowner's deductible. "
Philip.

Review on Google
Need Storm Damage Remediation?
Our crews are available for immediate inspections of your roofing, siding, and gutter systems! If we find storm damage, our team offers insurance claim assistance.