Scott started his career in an in-bound call center selling various products over the phone. He quickly moved up the ranks and eventually became a Sales Director and travelled the country working with names like Jack Canfield (Author of Chicken Noodle Soup for the Soul) Carleton Sheets (How to Buy and Sell Real Estate with No Down Payment) Robert Kiyosaki (Author of Rich Dad, Poor Dad) and Tony Robbins.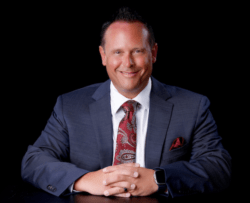 Scott was responsible for all of the training at all of the call centers across the country and was very successful in maintaining a high closing rate at the various call centers. Scott developed a passion for sales through this experience and created a love for helping people and building relationships. Shortly after that opportunity, Scott transitioned into his next job as a Sales Director for a Property and Casualty company in Chicago. In this role Scott was able to learn the importance of risk management and obtain his P&C license, which he still holds. He was able to secure insurance for large commercial accounts and develop relationships with business owners and teach them the importance of being risk averse.
In 2007, Scott was introduced to something that would eventually change his career path forever
…
the shingle and roofing industry. As Scott was building his book of business in insurance, he would go door to door offering free roof inspections and work with homeowners on filing claims for their damaged roofs. He always will remember the first claim he was able to file for a family that was low income and the joy it brought to them when they got approved for a roof replacement paid for by their insurance company. One of Scott's favorite quotes is "People have to know how much you care, before they care how much you know"
Scott has worked at various roofing companies over the years and has learned from some of the best in the business over the last 14 years. A few years ago, Scott followed his calling and resigned from the insurance business and has teamed up with his partner Jeff to start their own company. Scott has his unlimited roofing license for the business. Scott's vision is to build a company with Jeff where professionalism is always a priority and to run the business with the same strategic approach of relationship building and keeping the customers and his employees happy.
Scott and his wife Carmen have four children and reside in Naperville, Illinois